LIWANAG: THE STORYBOOK Celebration with Jean Donnaferl Belidhon
21may11:00 am1:00 pmLIWANAG: THE STORYBOOK Celebration with Jean Donnaferl BelidhonKubo LB
Event Details

Join Bel Canto Books as we celebrate LIWANAG: THE STORYBOOK with Jean Donnaferl Belidhon and the Filipino Migrant Center.

Bel Canto Books is honored to host the LIWANAG: THE STORYBOOK Celebration with Jean Donnaferl Belidhon and the Filipino Migrant Center at KUBO LB.

RSVP required; please select the ticket option that best fits your group. Please stay home if you feel sick.

This is an indoor event at KUBO LB (3976 Atlantic Avenue, Long Beach CA 90807).

EVENT SCHEDULE
10:45 am – Check-in begins
11:00 am – Event starts (welcome, reading and discussion, audience Q&A)
12:00 pm – Book signing
1:00 pm – Event ends
ABOUT THE BOOK
Liwanag: The Storybook is a creative multimedia project highlighting the stories of Filipina frontline workers in Los Angeles during the COVID-19 pandemic. In collaboration with community organizations, our team of immigrant youth artists and filmmakers produced Liwanag — both a film documentary and illustrated storybook to uplift these narratives and invite the community to learn more about the lives of these courageous women who continue to fight back and organize for change.
ABOUT THE AUTHOR
Jean Donnaferl Belidhon is a youth artist based in Los Angeles. As early as she could remember, drawing was a fun way to learn and visually capture concepts to understand and convey life and the world around her. In elementary school, drawing math concepts like 10 doves minus 5 doves made studying enjoyable. She grew up in the Philippines and migrated to the US with her family in 2016.
ABOUT THE CONVERSATION PARTNER
The Filipino Migrant Center (FMC) is a 501(c)(3) non-profit organization founded in 2010 to address the needs of Filipinos in the South Bay cities of Southern California and has since expanded to serve throughout the entire region. We are a Filipino immigrant-led organization who aims to educate, organize, and mobilize low-income, working class Filipino families.
ABOUT KUBO LB
KUBO LB is a creative community space for Filipinx, BIPOC, LGBTQ, and Women led small businesses. KUBO LB is a space to support and educate small businesses through retail, business workshops and more.
LIWANAG: THE STORYBOOK Celebration with Jean Donnaferl Belidhon and the Filipino Migrant Center, hosted by Bel Canto Books in Long Beach, California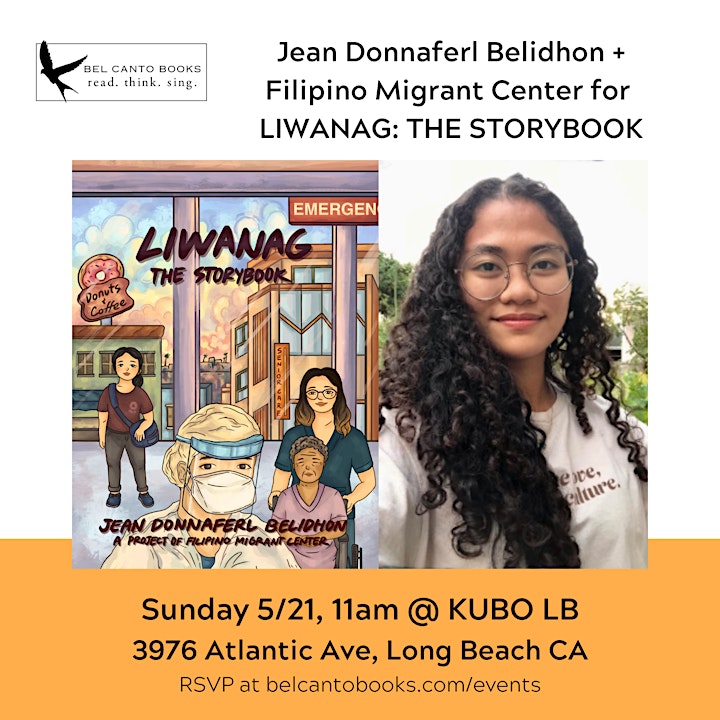 more
Time

(Sunday) 11:00 am - 1:00 pm
Location

Kubo LB

3976 Atlantic Avenue, Long Beach, CA 90807