YA Book Launch for FREE RADICALS by Lila Riesen
26mar4:00 pm6:00 pmYA Book Launch for FREE RADICALS by Lila RiesenBel Canto Books at KUBO LB
Event Details

Join Bel Canto Books as we celebrate the YA book launch of FREE RADICALS by Lila Riesen. Lila will be in conversation with Arya Shahi.

Bel Canto Books is honored to host the YA book launch of FREE RADICALS by debut novelist Lila Riesen. Lila will be joined in conversation by Arya Shahi of the forthcoming book, AN IMPOSSIBLE THING TO SAY.

RSVP required; please select the ticket option that best fits your group. Attendees will be required to follow all current COVID-19 restrictions. This is an indoor event at KUBO LB (3976 Atlantic Avenue, Long Beach CA 90807).

EVENT SCHEDULE
3:45pm – Check-in begins
4:00pm – Event starts (welcome, author conversation, audience Q&A)
5:00pm – Book signing & private shopping
6:00pm – Event ends
ABOUT THE BOOK
Afghan-American Mafi's sophomore year gets a whole lot more complicated when she accidentally exposes family secrets, putting her family back in Afghanistan in danger in this smartly written YA debut.
★ "Riesen's debut is a rich, multifaceted story that . . . interweaves racism and discrimination, immigration and injustice, sexism and double standards, family expectations and intergenerational trauma, and more, all written to great effect and with a broadly diverse supporting cast. A smart, powerful, poignant tale of identity, freedom, and family." —Kirkus Reviews, starred review
ABOUT THE AUTHOR
The daughter of Afghan and Australian immigrants, Lila Riesen was raised in the United States. Her undergraduate studies in English were completed at Indiana University and the Australian National University. In 2017, Lila graduated with a master's degree in English literature and linguistics from the University of Zurich in Switzerland. Free Radicals is her first novel, inspired by her cashew-coveting baba and all the Afghans fighting for peace, in the US and abroad.
ABOUT THE IN-CONVERSATION PARTNER
Arya Shahi is an Iranian-American writer, performer, musician, director, and producer. His debut novel-in-verse, "An Impossible Thing To Say," is being published by HarperCollins in the Fall of 2023. He is a co-founder of PigPen Theatre Co., the award-winning folk band and theatre company, as well as @inboxart, an Instagram collaboration which explores the connection between poetry and visual art. He is also a member of the #BARS Workshop at The Public Theater. He is currently working on several projects, including stage adaptions of "Water For Elephants" and "The Tale of Despereaux", and a rap album called "The American Grandson". BFA in Drama, Carnegie Mellon University.
YA book launch for FREE RADICALS by debut novelist Lila Riesen with Arya Shahi, hosted by Bel Canto Books in Long Beach, California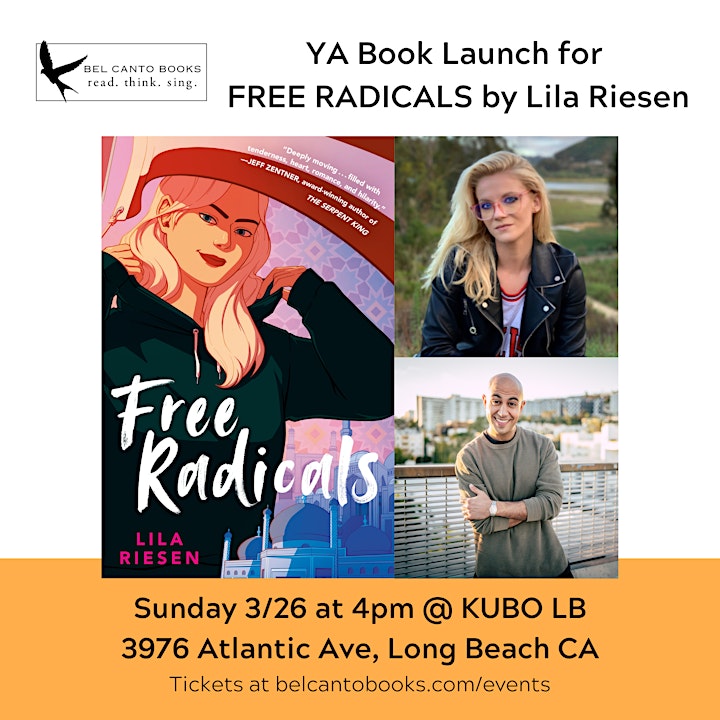 more
Time

(Sunday) 4:00 pm - 6:00 pm
Location

Bel Canto Books at KUBO LB

3976 Atlantic Avenue, Long Beach, CA 90807