Women Elevating Women: A Day of Health, Wealth and Empowerment
23sep10:30 am3:30 pmWomen Elevating Women: A Day of Health, Wealth and EmpowermentEvents on Pine
Event Details

Experience Women Elevating Women: Join us in Long Beach, CA for an empowering event on 9/23/23, fueled by 2.18 Vision. Don't miss out!

In the heart of downtown Long Beach, a day awaits with the energy of health, wealth and empowerment. 2.18 Vision and Women Elevating Women would like to extend our heartfelt welcome to our incredible speakers who are generously sharing their time and talents with our amazing community of women. This marks the sixth year and our 16th event, and we couldn't be more thrilled to come together again on September 23rd! An exhilarating moment awaits as we gather with our exceptional lineup of speakers!

Prepare to connect, learn, and be truly inspired by these phenomenal voices at Women Elevating Women: A Day of Health, Wealth, and Empowerment!

Let's meet these remarkable individuals:

Tara – Enlightening us on Gut and Hormone Health

Nekaya, Desiree & Natalyn – Guiding us through Navigating Grief & Building Resilience

Damaris, Helena & Dr. Sharon – Engaging in an Elevating Conversation about Entrepreneurship: The CEO Chat

Neisha – Sharing insights on The Road to 7 Figures in Entrepreneurship

Taylur – Unveiling the Secrets of Starting Midterm Rentals

Amber – Mastering Business Formation & Tax Strategies

The journey of elevation and empowerment begins as we unite with these amazing ladies!

From sunrise mimosas to sunset inspiration, this day is for you. Register now and be part of a day dedicated to celebrating the strength, potential, and unity of women. Secure your spot at "Women Elevating Women" and let's make a lasting impact together!

A portion of the proceeds will be donated to 2.18 Vision, a 501c3 nonprofit organization, to support grieving families.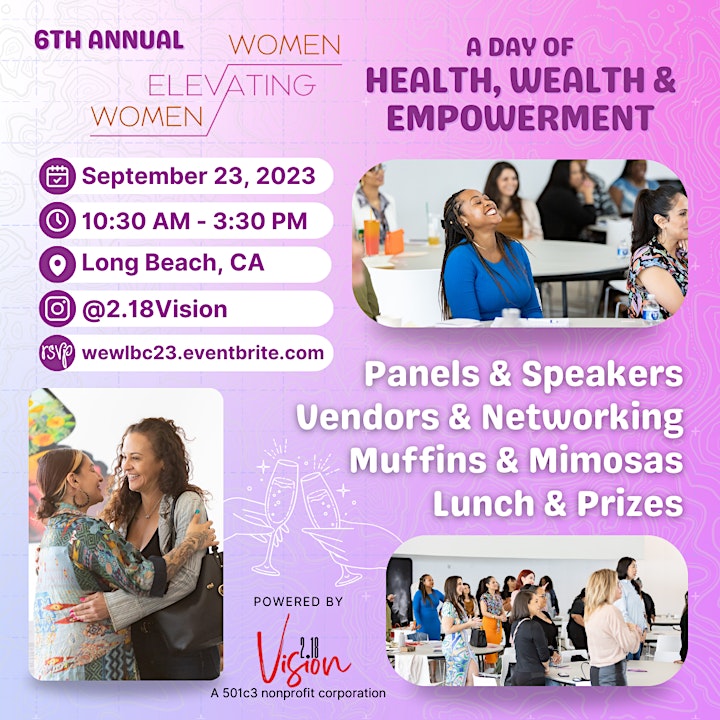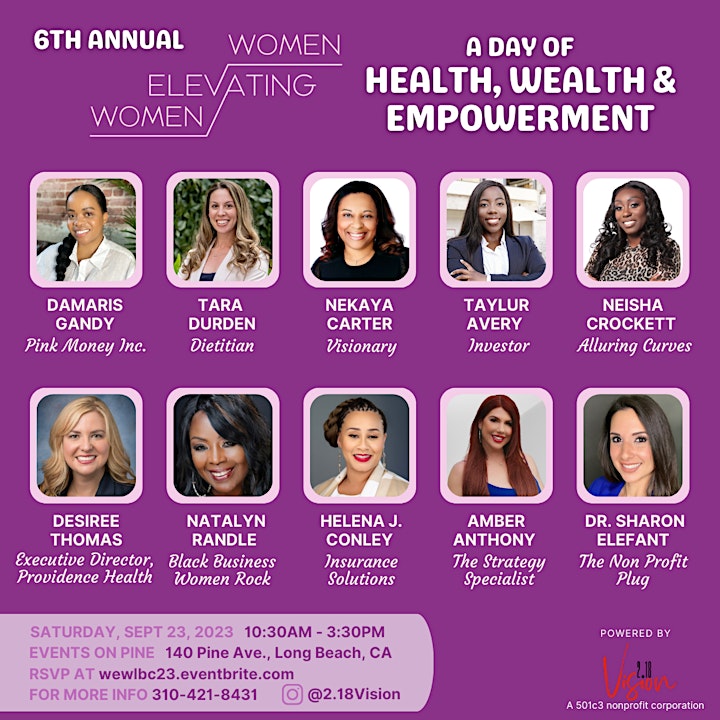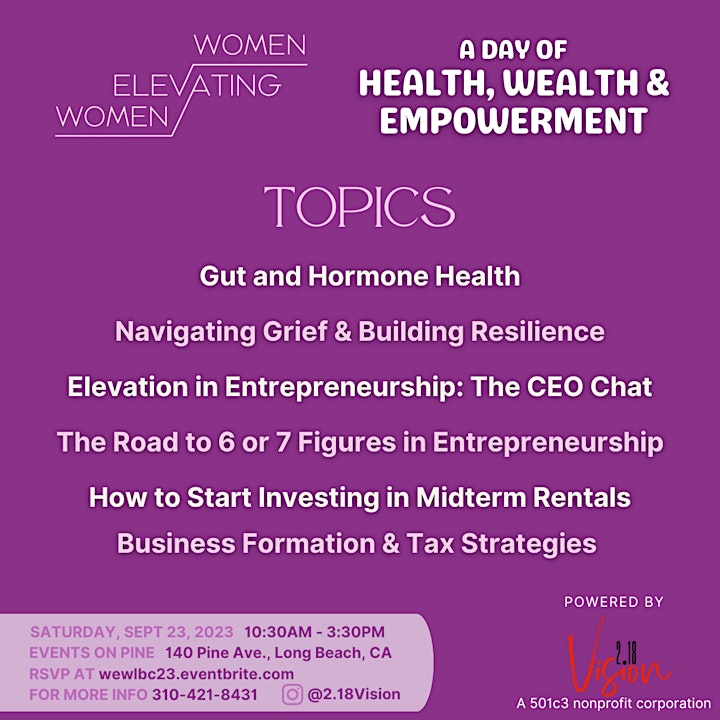 more
Time

(Saturday) 10:30 am - 3:30 pm
Location

Events on Pine

140 Pine Ave, Long Beach, CA 90802