EV Racing Safety Seminar at 2023 Acura Grand Prix at Long Beach
15apr9:00 am11:00 amEV Racing Safety Seminar at 2023 Acura Grand Prix at Long BeachLong Beach Convention & Entertainment Center
Event Details

This Year will address Electric Vehicle Racing Safety with EV Specialist Eric Huhn, and hear from internationally known driver Jacky Ickx.

This year at the Acura Grand Prix of Long Beach, we will address a topic of growing importance,

Electric Vehicle Racing Safety, at our annual Stand 21, Racing Goes Safer seminar on Saturday,

April 15 th , 2023.

This topic should be of interest to those at the track who inspect race vehicles and provide

safety response during competition, as well as drivers and crew with these vehicles. With more

EVs and electric hybrids showing up at track days and competition events, now is the time to

learn more about the special precautions that need to be taken as routine, or when something

goes wrong with this new technology.

We have engaged Eric Huhn of the University of North Carolina at Charlotte to speak at our

Long Beach safety seminar. Eric will be covering the basics of working around high voltage and

amperage hardware, procedures to follow, precautions around production EVs like Teslas,

preventing battery fires, and in the worst case, addressing runaway battery fires. He will cover

what we know at this point in this emerging area, and what has been learned by the FIA in

Formula E.

Eric is the Facility and Laboratory Safety Engineer for the William States Lee College of

Engineering at the University of North Carolina at Charlotte. He is responsible for developing

safety protocols for research activities involving emerging technologies. He has also been

working closely with the SAE to improve safety procedures for the Formula SAE student

competitions. He is a firefighter/EMT and a member of the Charlotte Motor Speedway Track

Services team.

We will also be hearing from a SURPRISE guest and internationally-known racing legend.

Here's an opportunity to learn more about this new frontier of vehicle tech, and what we know

about safety around it today.

Special Guest: Jacky Ickx – Legendary six-time Le Mans victor, Can-Am champion, the runner-up in the 1969 and 1970 Formula 1 World Championships for Brabham and Ferrari, twice World Endurance champion and Paris-Dakar winner will tell stories of daring and dangers in those times.

This event is FREE to attend. Track credentials or a General Admission ticket are required to gain access to the Long Beach Convention Center. Check-in on April 15th will begin at 8:30 AM with a coffee meet-and-greet. The seminar will then promptly begin at 9AM.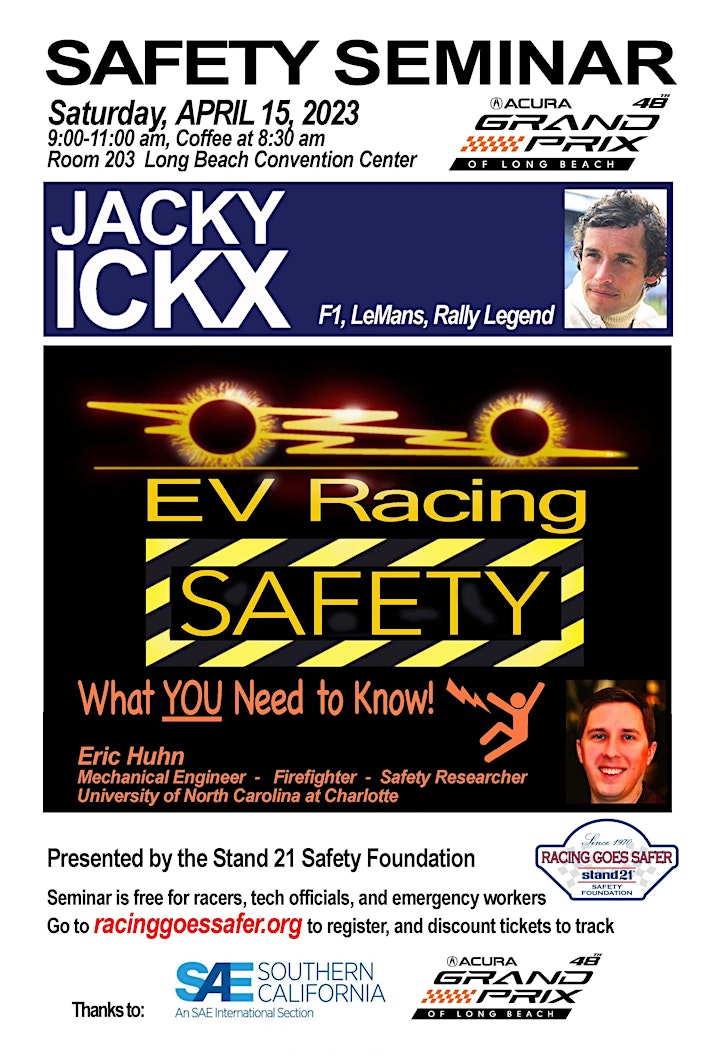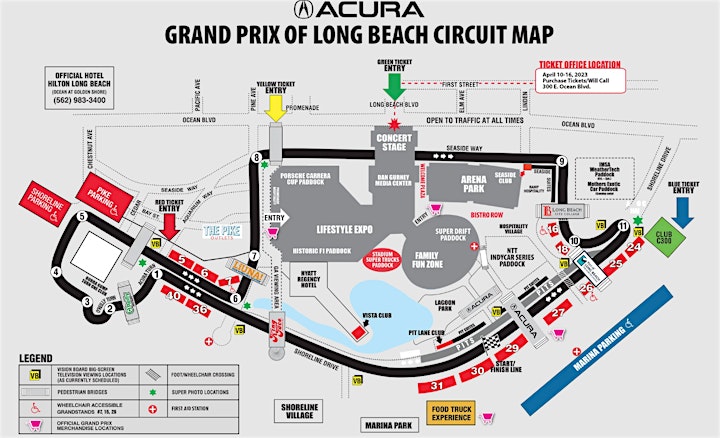 more
Time

(Saturday) 9:00 am - 11:00 am
Location

Long Beach Convention & Entertainment Center

300 East Ocean Boulevard, Long Beach, CA 90802