AfterDark 2023: ORDINARY PEOPLE
06oct7:00 pm10:00 pmAfterDark 2023: ORDINARY PEOPLELong Beach Museum of Art
Event Details

Join us for the AfterDark opening reception of our fall exhibition.

Our annual AfterDark exhibition preview party is back!

Join us to celebrate the opening of ORDINARY PEOPLE on Friday, October 6, 2023.

Member Opening: 5-7 PM • FREE

Public Opening: 7-10 PM • $20 per person

Become a Member and see it first or rejoin to attend the exclusive VIP and Member Reception. Member reception includes free drinks and small bites.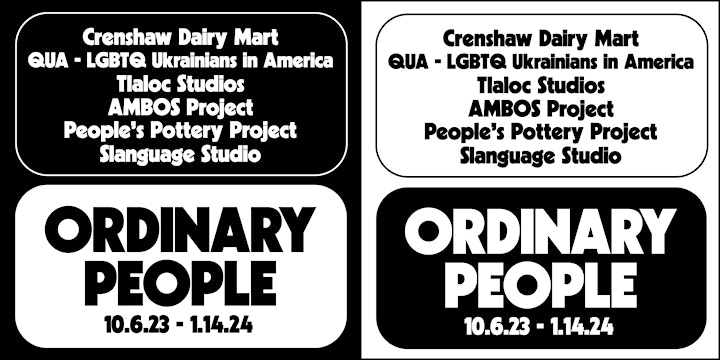 ORDINARY PEOPLE
"Regimes of racial segregation were not disestablished because of the work of leaders and presidents and legislators, but rather because of the fact that ordinary people adopted a critical stance in the way in which they perceived their relationship to reality. Social realities that may have appeared inalterable, impenetrable, came to be viewed as malleable and transformable." -Angela Davis, Freedom is a Constant Struggle
Featuring Crenshaw Dairy Mart, QUA – LGBTQ Ukrainians in America, Tlaloc Studios, AMBOS Project, People's Pottery Project, and Slanguage Studio, this expansive exhibition is guided by Angela Davis' Freedom is a Constant Struggle – a text which stresses the importance of recognizing the communities which power and sustain impactful social movements. Each of these organizations was founded and maintained by small groups of artists, educators, and critical thinkers- thus embodying the positive change and progress that occurs through the power of community activation.
On view October 6, 2023 – January 14, 2024
About the Organizations
CRENSHAW DAIRY MART can be considered a full realization of harmony between art and activism, beginning at their inception. The original Dairy Mart was founded one day after the Watts Uprising in 1965, constructed exactly one hundred years after Juneteenth 1865, and has served the surrounding Inglewood community. Since then, the structure has evolved into an art collective and gallery dedicated to communal healing, fundraising, and advocacy. Patrisse Collurs, alexandre ali reza dorriz, and noe olivas founded this regeneration of the space in order to provide the area and its residents with access to expression, lightness, and connection. As a venue for artist residencies, community gatherings, and performances, among other things, Crenshaw Dairy Mart pays reverence to their rich history while creating an abundant future.
QUA – LGBTQ UKRAINIANS IN AMERICA are thrilled to present a photo exhibition by Ukrainian photographer Alim Yakubov featuring portraits of LGBTIQ+ in defense of Ukraine. The exhibition is accompanied by the personal stories of Ukrainian heroes collected and translated by Dafna Rachok. It is framed as a conversation with extraordinary LGBTQ people who, after Russia's brutal invasion of Ukraine on February 24, became defenders of their country and, just in one night, started a new life as soldiers or volunteers, joining the army or starting a humanitarian project to help other people. All of them are risking their lives for a democratic and independent Ukraine and choosing to stay and fight against the Russian occupation.
TLALOC STUDIOS is a non-profit arts organization in South Central Los Angeles founded by Ozzie Juarez in 2021. "Tlaloc" is derived from the Aztec god of rain, considered a fertility symbol. The project seeks to embody the notions of regrowth and prosperity by caring for artists of various disciplines and providing a space and platform for them. This culminates in a collective that acts as a resource for the surrounding community and a prosperous cultural hub where ideas and artists can blossom.
AMBOS PROJECT is an acronym for Art Made Between Opposite Sides. AMBOS Projects aims to cultivate stronger cross-border relationships while caring for communities through collective art-making, collaboration with local artists, and documenting the United States/Mexico border. Founded by Tanya Aguiniga in 2016, the heart of AMBOS has always been to blur the line between activism and art. By employing several mediums such as ceramics, photography, and performance, the craft is repositioned as a method of self-care and exploration of identity within border regions while directing attention towards them.
The nucleus of PEOPLE'S POTTERY PROJECT is the right to potential and possibility through creation. Founded by Domonique and Ilka Perkins in 2019, this Los Angeles-based non-profit provides space and materials for formerly incarcerated women, trans, and non-binary individuals to flourish via ceramics. By utilizing clay's communal and restorative nature, members are provided with significant employment and a means of unfettered interconnection and expression. PPP returns what was stripped from them by the prison industrial complex (autonomy, purpose, trust), granting these makers a chance to thrive unabashedly. Every aspect of PPP is intentional, from their trademark color being named "Abolition Blue" to all their handmade stoneware being entirely nontoxic. These thoughtful details reflect their pursuit of safety, joy, and choice for everyone, especially those who have been denied them.
At its core, SLANGUAGE STUDIO defies the notion that activism can be pigeonholed and demonstrates its various forms. Founded in Wilmington in 2002 by Karla Diaz and Mario Ybarra Jr., this multi-faceted collective resists being placed in any box. It has "invented its own language" to educate through the arts and bolster accessibility. From arranging their local and international artist residency (SlangA.I.R.) and public workshops and events to creating interactive works of art that span communities, Slanguage invokes a unique array of tools to expand art education into a method of connection and advancement.
Disclaimer
Tickets to AfterDark 2022 are non-refundable.
more
Time

(Friday) 7:00 pm - 10:00 pm
Location

Long Beach Museum of Art

2300 East Ocean Boulevard, Long Beach, CA 90803